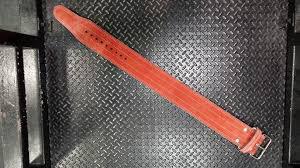 BestBelts 

www.bestbelts.net 

Prime Cut Belt 



I lifted for12yrs before ever buying a belt. I either didn't use one or I just used the thin single layer leather belts my gym has had forever. A couple of years ago I moved in to Powerlifting and found myself really needing a good belt. Short on cash I bought a cheap belt $45 Shipped. It was a 10mm Lever belt. When I received it I thought it was very nice and it works fine, but I wasn't happy on the choice of going with a lever belt. It's nice for a quick release, but I found it fit different on some days than others. Adjusting it wasn't hard, but you had to carry around a screw driver to do it. First time I adjusted it I striped out a bolt. So after I got that fixed I never tried to adjust it again. I found myself wanting a prong belt. So I started looking around. I came across many sites selling nice belts, but after reading reviews and looking at things like price and what the belt offered. I went with a Prime Cut 13mm Single Prong Belt from www.BestBelts.com. And I'm glad I did.

The Prime Cut Belt is a 13mm, the thickest, biggest belt BestBelts offers. They do offer 3 other belts. A 3in Belt which would be good for Short Women, Younger Athletes and I've noticed a lot of Crossfitters liking the 3in belts. Then they have a Tapped belt. That is 4in in the back and 2.5in in the front, and the last belt is the Athlete Belt. A solid 4in all the way around, just like the Prime cut belt, but the Athlete Belt is 10mm thick.

Now after years of using a Tapered belt and 2yrs of using a 10mm Belt. I'm glad I went with such a high quality 13mm Belt. The Prime Cut belt just makes my other belts look like something you would find in a Jr. High Schools Gym Class.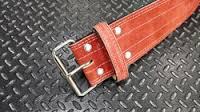 First impressions, When I first got my belt and I had to wait a bit for it. From my understanding they are hand made to order and a small company. Anyway, first impressions… Very nicely made and stunning. Literally a work of art. I did think it was very stiff and I sent an E-Mail to ask about breaking them in. I did that a little prematurely. It was 20 degrees outside and it sat in my front porch for a couple of hours. Once I had it inside for a night and I rolled it up back and forth a few times. It was good to go.

First time out and it was a Squat Day. I nailed a Rep Personal Record on Squats with 345x12. Might not be a lot for some, but was great for me. Since then I have been going up too. Now I'm not saying the new belt made me lift more weight, but it sure made me fill more secure and tight during my lift. I didn't think a little 3mm's in thickness or just the fact I could crank it down tighter. Would feel different, but it does.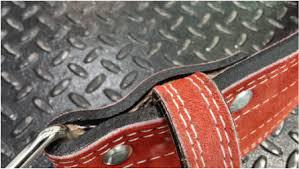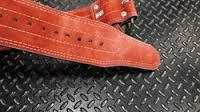 Unlike other well-known Company Belts, the Prime Cut is under $100. $94 on their site, but I searched around during this review and found a site that sells them for $78 with free Shipping. Dean and Jackie Best made sure to pay attention to details when making these belt s and it really shows. 

I don't ever see myself ever needing to buy another belt for as long as I lift. This is something I'll be able to pass down to my son. I just wish I made the choice to buy the Prime Cut belt the first time and saved the money.