MGP Caliper Covers

Now if you don't have a Big Brake kit to show off, but still want something better looking then ugly stock calipers. These might be what your looking for. These covers have been shown to reduce heat and brake dust. So they are some what useful too. They are also very simple to keep clean and looking good.  There are 100s of different looks you can order as well. Colors, letting and many sites are offering Custom designs and paint for these. 
If you have Air tools great if not. You will need the tools to remove your Tires. Remember will jacking your car up to use jack stands.

You will also need a 3/8in driver to install the Clamps and Covers

2 Bags of Hardware. Bags are marked Fronts and Rears, Make sure not to mix these up.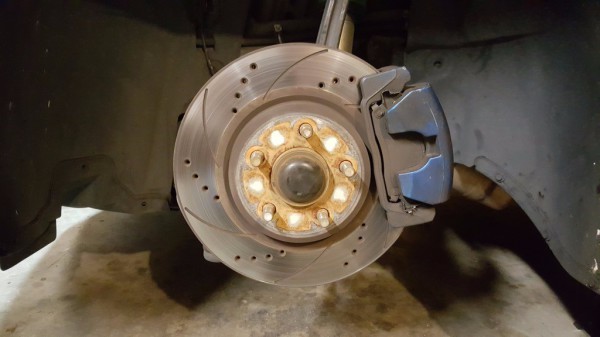 Wheels removed and a better look at the before. If you notice the left picture (fronts) the dirt and barke dust that is baked on the Caliper. This stuff would not clean off without removing paint. This is what got me interested in Covers.

Very simple install and only takes a half an hour from start to finish.  Side the Clips like show in the picture to the left. Make sure the backside of the clips are not rubbing or touching the rotors or pads.
Now place your Covers on and used the supplied locking nuts that came with your Covers. Before you tighten them down. Make sure there is a small about of clearance between the Covers and Calipers. Does't need to be much at all. Tighten everything down and you should be good. 

Everyting is mounted up and zero clearance with the brakes.
Place your Wheels back on and before your tighten everything up. Spin your Wheels by hand to see if your Wheels clear the new covers. If there is any rubbing they will not work.