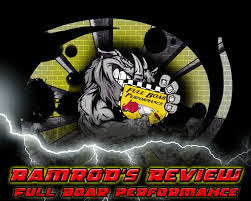 I got the opportunity to test out and Review two Mufflers. Some of you have heard of Full Boar, but I know many have not. When I first ran across them over on another Forum. The sound and price got my attention. So I started searching everything I could find on them. From what I read they made a very high quality muffler with a low price tag. Which those two rarely go together. Everyone has always heard. "You get what you pay for".. Well in this case I was hoping you get way more then what you pay for. Now it was time to choose which one I wanted.

I just couldn't choose which one of theirs I wanted to run. I couldn't find many sounds Clips of the V-Tube. Neither was on a Charger or any LX platform. Let alone a V6. The Deflector was a little easier to find. I found two Challengers with a V6 and one V8 running the Deflector. All with great reviews. The Deflector is a common 2-Chamber Muffler that gives off that classic deep aggressive tone. Sound from the Deflector was described to a Flowmaster 40 or 44. The V-Tube is supposed to give that 2-Chamber sound, but tad quieter. Which would provide less Drone and Cab Noise.

Spec's:

Stock V6 Muffler

Overall Length: Depends on the Cut
Case Length: 18-1/2in
Case Width: 9-5/8in
Case Thickness: 4-7/8in
Overall Weight: 13lbs 5.7oz



Full Boar V-Tube
Overall Length: 18-3/4in
Case Length: 13-1/8in
Case Width: 9-1/2in
Case Thickness: 9-1/2in
Overall Weight: 11lbs 10.4oz


Full Boar Deflector
Overall Length: 18-1/2in
Case Length: 13in
Case Width: 9-1/2in
Case Thickness: 9-1/2in
Overall Weight: 19lbs 12.7oz


Pic's
Both Side by Side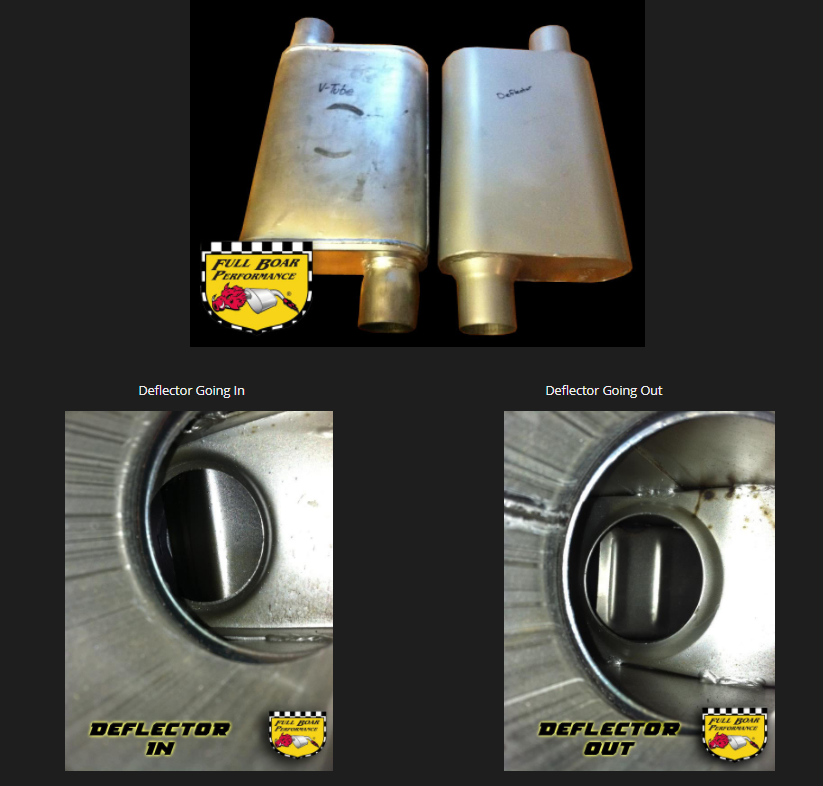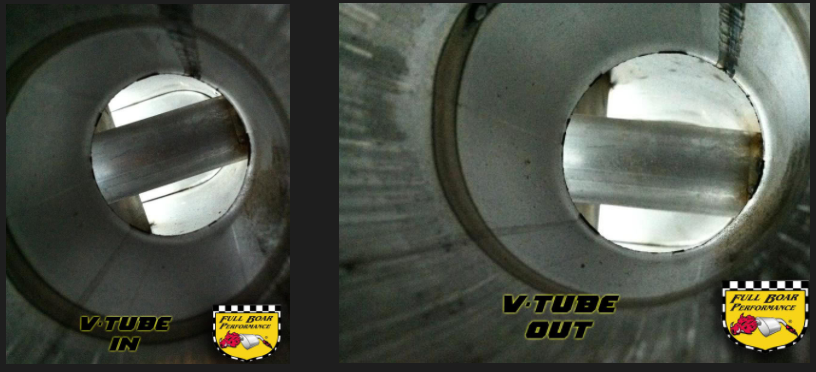 When I was trying to figure out what I wanted for Exhaust. I wanted it to be heard, Deeper and have a performance tone to it. Being a V6 you can't just go for the loudest set up. I was afraid removing the Resonators would make it to loud. So I first switched out the factory resonator and had it Y'ed for Duals with Turbo Mufflers. This resulted in good results. At a Cold start up it was deeper and a tad louder then stock. During normal driving it was pretty quiet. Highway had zero Drone and sounded great when you stepped on it. But I soon found myself looking for something a little deeper and louder.
Turbo Mufflers 3.5in Tips
So after 7-8 months I started looking into my next step up. I went back to the Exhaust shop and had them removed and installed a set of Blastin Bobs 4in12in Resonated Tips. I kept the Stock muffler.


Stock Muffler 4in x 12in resonated Tips
I was happy with the results, but I knew it could get better. It sounded great at start up and on a mild Woot. During a Hard woot it got a little drone, but settled off really quick.At about 2200-2600 RPM was it's loudest range. Which put me in the 70-75mph range. I wouldn't call it a drone, but it was noticeable. You could still talk and wouldn't have to turn the radio up.


Like I said I was on the way to still improving it and I knew it could get better. So I started looking into changing the muffler out. I know I could have gone the easy way and just got the same muffler as everyone else. Flowmaster 44 or 40. I'm not one to do the exact same as everyone else. I always look to stretch my money farther without sacrificing quality. I have built my whole car that way. By doing most the work myself and buying things off Craigslist and this forum. I've saved well over $2000.00 so far. Flowmasters start in the $50-$60 range. Which isn't bad when you only need one. While I was listening sound clips I came across a V6 Challenger running a Deflector. Then I had two others recommend it to me as well. So I visited Full Boars Website and read more about there mufflers. They seemed to be made nice and started ay $27.99. WOW... They had a Straight through design called the Max Flow. It's like the Magnaflow, but was flow tested at a higher CFM rating. From all the sound clips the Magnaflow design wasn't what I was after. I liked that 2-Chamber muffler sound the Flowmasters gave .I kept worrying about drone and read the Flowmaster would produce some drone. So I read up on the V-Tube by Full Boar. They stated"This muffler features a TOTALLY unique patented internal design, with NO sharp edges or corners to deliver smoother flow & offering a deep, rich exhaust note with LESS interior resonance then those popular 2-chamber mufflers." This was what I was after. After looking for days online for sound clips of the V-Tube I couldn't find much at all. So I was second guessing the V-Tube. But all was well as I got the chance to test both out and make my decision. I got one Deflector and one V-Tube. Both with 2.5''IN and 2.5''OUT with Offset/Offset.


The Mufflers came in on Wednesday around noon. I called and made my Exhaust appoint for 9am the next day. I explained to him what I was doing and I would be back to change out mufflers in a week. He charged me $30 and welded in the new Deflector. I figured I would go with the loudest first. Since I was leaning more towards the V-Tube.


First thoughts on the Deflector.


Sounds sweet at start up and idle. It's much louder at start up. Just because it's louder doesn't make it sound better. I liked the sound it gave thou. Taking off it was a little loud and at mid woot. Didn't sound bad, but was a little on the loud side for me. The loudness quickly goes way once the RPM's shift. During City driving if you take off slow and slowly build up speed so it shifts below 2500. It's great. But in that 2500 to 2750 RPM range is the Drone. You can hear it pretty good. Which put me in the 75-83mph range. Being that the speed limit around he is only 65 and 60 on the Highway. I don't see it being an issue.


I took some Video and I'm working on it now.


I'm going to drive it for one week and give another review at the end. Next Friday morning at 9am I'm having the V-Tube installed. 
Here is a just a Into to the Deflectors Video..

Both Videos are the same,

Youtube Video
Intro Full Boar Deflector ~ Dodge Charger V6~ - YouTube
Part II and Final Video of the Deflector..

Due t time and weather. This was the nicest time I could find to shoot this. There is a little extra sound from the water on the road, but not to bad.